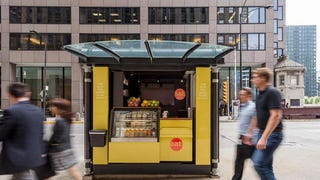 Newspapers printed on actual newspaper are useless, and so are the kiosks that sell them.
Once a one-stop-shop for your daily paper and a dirty magazine or two, newsstands are now a slowly withering media vestige thanks to society's mass migration to the digital medium.
So, it should come as no surprise that the city of Chicago is converting some of the city's former newsstands into mini-food kiosks where you grab a healthy treat to shovel into your pie hole while you check the news on your smart phone or tablet.
According to the Chicago Tribune, the first, 45-square-foot location opened to consumers Monday on 368 W. Madison St, near one of the city's opera houses.
The kiosks will be open between 7 a.m. and 6:30 p.m. on weekdays. The menu is developed by chef Shaw Lash, a Frontera Grill alumnus, and includes tofu scrambled wrap and an Asian kale salad with pickled shiitake mushrooms.
A total of four Kiosks are slated to open by the end of the year.